Sapience Analytics

Sapience Analytics
CEO

Brad

Killinger on Rising to the Challenge of Managing the Post-COVID Era Remote Workforce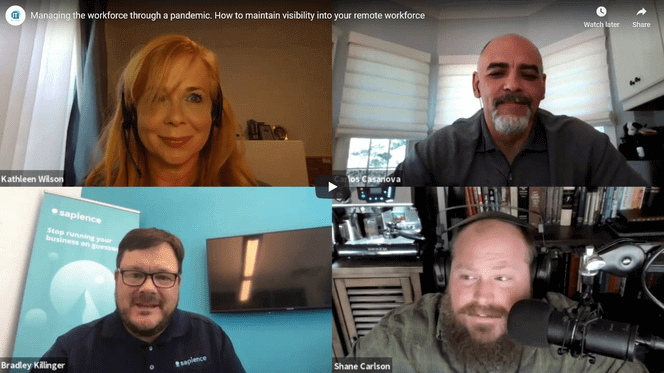 Brad Killinger, CEO of Sapience Analytics, recently was featured on the IT Chronicles' 10 in Tech video podcast to talk about the company's role in helping provide workforce visibility during the COVID-19 pandemic, navigating the challenges of the remote workforce, and workforce trends in the post-COVID era.
In the discussion, Brad explains how data can support management of the widely distributed and remote workforce.
"We're trying to provide data analytics and challenge the companies of tomorrow about a whole new way of operationally managing their businesses more optimally," he said.
Navigating the Biggest Workplace Disruption Since the Industrial Revolution
Organizations need a different approach to managing their business because business has radically changed. The post-COVID workplace is being re-booted — and powerful technology featuring machine learning and predictive analytics is being used to determine how to right-size and "right-site" the post-pandemic workforce.
Companies are needing to answer the following questions:
Which roles are best suited to work from home?
Which personnel should report back to the office?
What is the right percentage of personnel to remain working from home moving forward to address Board of Directors mandates for business continuity/risk mitigation?
What is the corresponding post-pandemic commercial real estate footprint that companies should have in place?
Make no mistake about it, this is the biggest overhaul of work since the dawn of the Industrial Revolution, and there are so many factors and considerations at play that organizations are turning to powerful analytics and machine learning to help provide answers.
Sapience Analytics' next-generation advanced business analytics platform powered by business intelligence and machine learning provides unprecedented visibility into the effort and utilization of people, processes, and technology. The software amasses work activity data from every computing device across the workforce every 15 seconds, like a productivity "strobe" to quantify work activity with complete transparency to provide fact-based insights critical to providing answers to key questions that will determine the complexion of the post-COVID workforce.
The Struggle is Real: Easing Employee Workplace Woes
When asked about the struggles of employees working remotely over these past few months, Killinger emphasized that these are overworked people dealing with the all new realities in today's world and a new working environment. Working from home has few boundaries — employees must manage their time efficiently and keep up the pace on their own.
Want to learn more about this?
Subscribe below and one of our specialists will get in touch with you with more info!
The transition of a hypothesis-based system to a data-driven system clearly shows the productivity of each worker. No longer can managers look down the office hallway and see who appears to be working — today organizations need to see work productivity levels accurately collected and reported digitally.
Says Killinger, "I think the power of this type of data and analytics is really important to put into the conversation and I think the long-term engagement and health of the employees is a really important part of it."
Addressing Privacy Concerns with Complete Transparency
Another key topic discussed on the video podcast was privacy. Productivity, remote work management and collaboration can be supported without going down the slippery slope of privacy intrusion. This is becoming a huge issue in the workplace as companies are actually putting in place some pretty draconian means to track employees including geotracking to ensure social distancing measures are followed, and assigning risk scores to employees via social media "behavioral" monitoring, etc.
Savage employee surveillance via intrusive tactics such as screen scraping, keystroke capture, personally identifiable information (PII) sharing, or location tracking have no place in the progressive workplace. Now is the time for employees, employers and technology vendors to have real discussions to drag this issue out into the open.
Sapience Analytics provides a factual data-driven view of effort and performance of employees without invading their privacy — it's an enlightened approach to remote work management. Data collection focuses on aggregate-level information for performance and productivity reporting.
Post-COVID Workforce Wins: Helping Both Employees and Employers Create a Better Workplace
Ultimately, real work data helps management make effective decisions and take the right actions to adjust employee workloads to avoid burnout, improve morale, reduce over time and identify training and educational needs. At the end of the day, the goal is to help your employees, to ensure they can do the best job possible with all the deliverables on their plates.
Watch the full discussion with the IT Chronicles' 10 in Tech team here:
We want to tell your more!
Subscribe below and one of our specialists will get in touch with you with more info!
Make Confident
Business Decisions
Sign up for a free Vue™ demo. Learn how to identify hidden insights in your workforce data to drive productivity.
Request a Demo
Sign up for a free demo. Learn how to identify hidden insights in your workforce data to drive productivity.