Sapience Analytics

Webinar: How
to

Achieve

Transformational Cost Savings from External Labor Category Management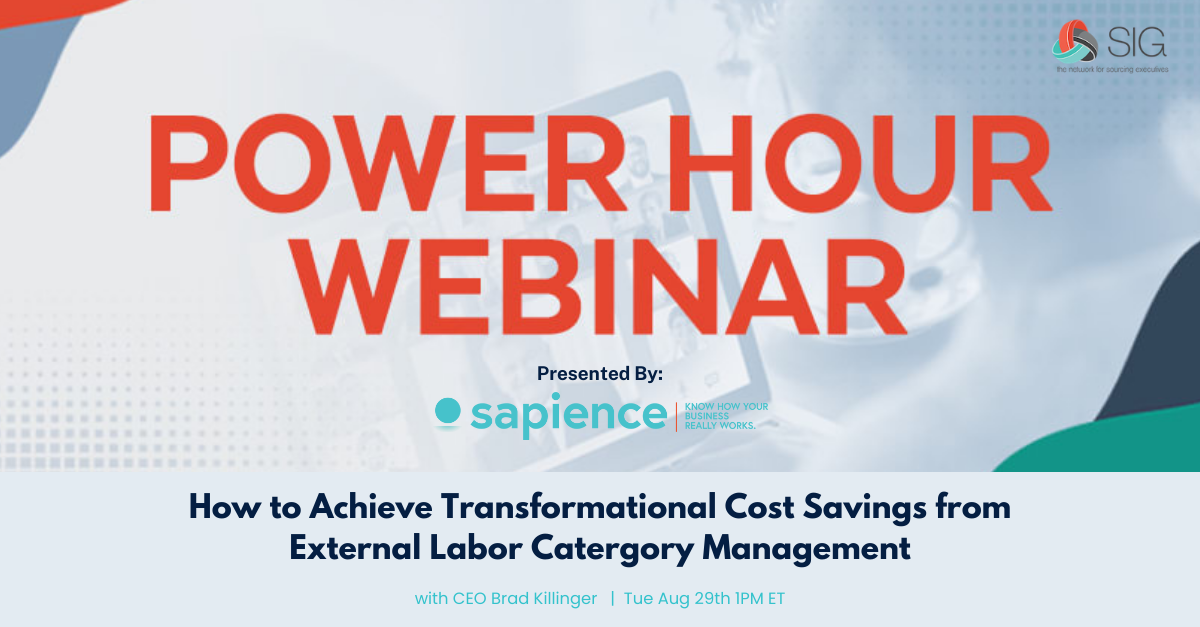 SIG | LIVE WEBINAR, August 29th, 2023 – 1:00PM ET
The importance of category management, building better category strategies, and identifying and mitigating supplier risks has even greater meaning for procurement leaders. For a CPO to thrive as an integral and influential business asset, supplier intelligence has never been more important. Are you capitalizing on your opportunities to deliver transformational impact?
What most companies fail to realize are the two inherent shortcomings in this ecosystem.  Consequently, nearly every business regardless of industry, is losing value from over 30% of their spend. Get actionable tips from Sapience Analytics' CEO Brad Killinger at the upcoming webinar in partnership with SIG. Register now: https://bit.ly/3QE81eP
About Sapience Analytics
Know how your business really works. Partnering with companies around the world, Sapience Analytics delivers data and insights to amplify workplace productivity across people, processes, and technology. Founded in 2009, Sapience focuses on work effort data trends using Sapience analytics, our flagship analytics, insights and decision support platform. With trillions of hours of work data collected and analyzed, Sapience enables executives and managers to save money by better utilizing available talent, optimizing the acquisition process and preventing overpayment for services received. For more information, visit http://www.sapienceanalytics.com.
About SIG
Sourcing Industry Group (SIG) is the premier global association for sourcing, procurement and risk professionals. Founded in 1991, SIG provides thought leadership, networking and training opportunities to executives in sourcing, procurement, and outsourcing from Fortune 500 and Global 1000 companies. It has served these professionals and opened dialogues with their counterparts in finance, HR, risk and other business functions throughout its history. The organization is unique in that it blends practitioners, service providers and advisory firms in a non-commercial environment. With a 75:25 ratio of buy-side to sell-side, and over 68% of delegates holding decision-making titles, SIG events are collegial, memorable and senior-level. visit http:/www.sig.org
We want to tell your more!
Subscribe below and one of our specialists will get in touch with you with more info!
Make Confident
Business Decisions
Sign up for a free Vue™ demo. Learn how to identify hidden insights in your workforce data to drive productivity.
Request a Demo
Sign up for a free demo. Learn how to identify hidden insights in your workforce data to drive productivity.