Q&A on
Future

of

Work with Kate Lister, Global Workforce Analytics

Sapience Analytics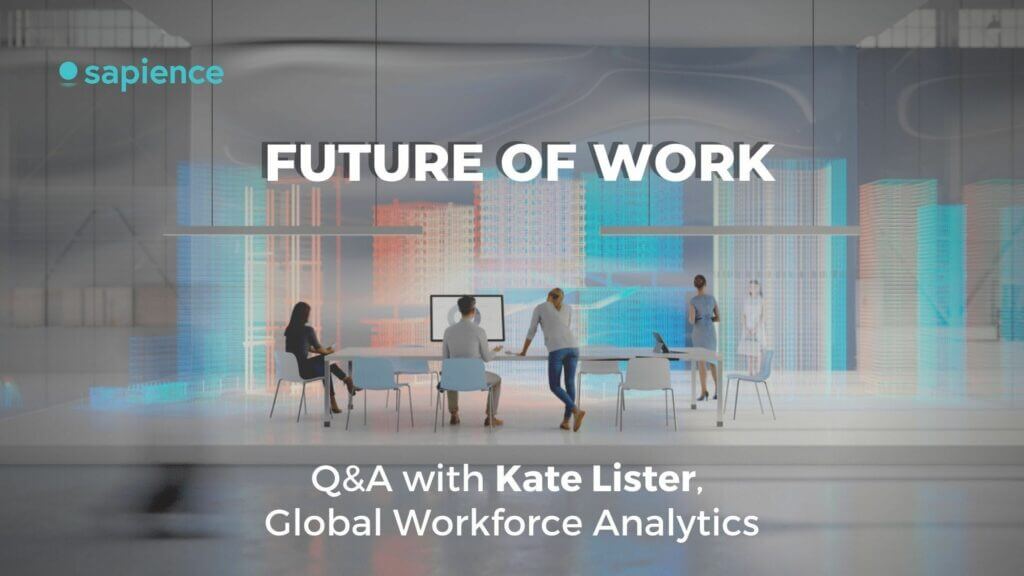 An Interview with Kate Lister, One of the Leading Global Authorities on The Future of Work
Brad Killinger, CEO, Sapience Analytics recently sat down with Kate Lister, president of Global Workplace Analytics, a research and consulting firm that helps employers understand and prepare for the future of work.
Kate Lister is one of the leading global authorities on the future of work and is among the world's most widely quoted authorities on remote work/telework/telecommuting. She has been helping public and private sector employers implement telecommuting and flexible work strategies for more than a decade – as has Sapience.
In our interview below, Brad gets Kate's perspective on how companies are dealing with disruption in the workplace and how this is powering the new way of working.
BK: How did the COVID pandemic accelerate certain trends in the workplace that we were seeing previously?
KL: In the past, many organizations were interested in launching flexible workplace programs, but oftentimes their focus was on other competing priorities. For those that did roll out these programs, this was generally done over 6 months to 1 year. During the pandemic, we saw these programs being launched practically overnight. As a result, many organizations likely won't see optimal outcomes.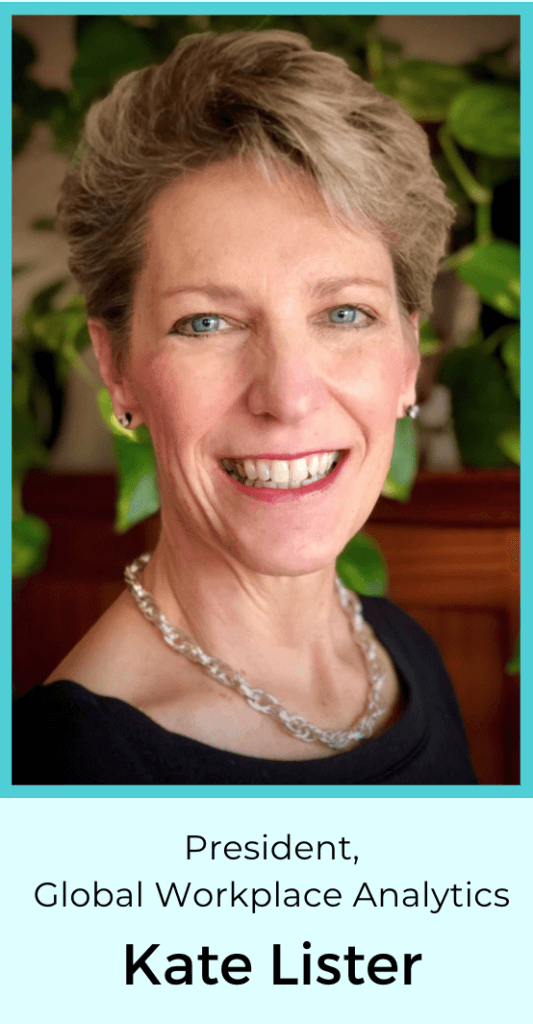 There were pre-pandemic efforts to measure the use of space and the effectiveness of that space, but it was kind of like the cart driving the horse. Employee populations were given a building and then left to their own devices as to how they were going to use it.
The pandemic has put the people element front and center. There's a big push to humanize the "new normal" workplace and human analytics in the workforce are becoming so much more important and bigger than "something that HR does."
BK: How has the workplace analytics space and the use cases changed over the past year?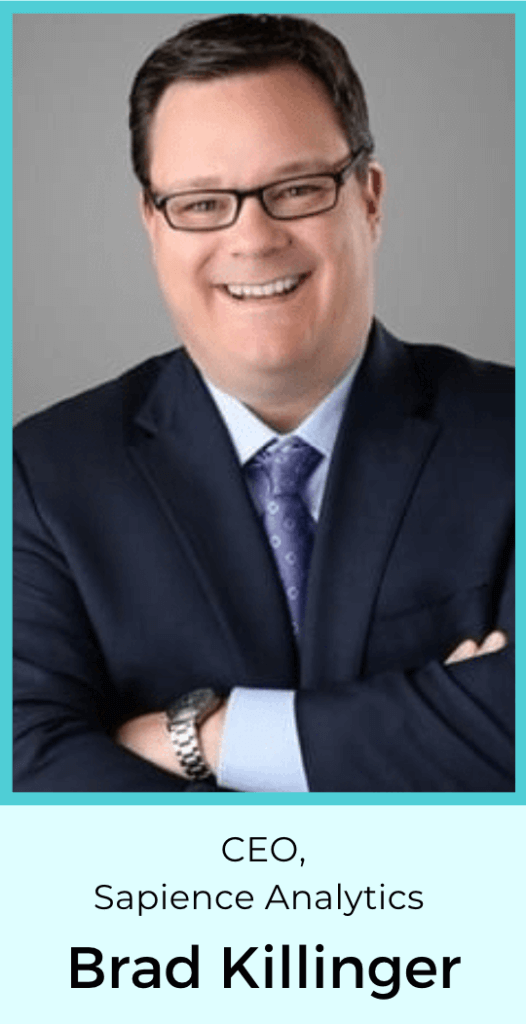 KL: Workplace analytics must focus on what people do and how they feel about what they do, and how the environment they are working in can help or impede their performance. There's always been a three-legged stool organizational performance factors: HR, IT, and Real Estate – people, process, and place. In the past, IT has been the last or least consideration. This has changed – technology is now the foremost consideration in the remote workplace.
Many employers are still reliant on pulse surveys or semi-annual surveys to measure and monitor employee experience, but what really matters is not what happened 6 months ago, last month or even last week – what matters is today. Understanding the employee experience is critical as we are now living in a wildly mobile talent scenario where employees don't have to make a physical move to transition into another job opportunity. Companies can ill afford to wait six months to learn there are major workforce issues.
Employers have a duty to safeguard their employees' mental health and physical health as we are in a worrisome state of overwork. This is not normal remote work. We don't see our friends, we worry about our health, and we have children homeschooling. This absolutely affects performance and we need a better way to measure the impact or predict it and recognize the symptoms of burnout.
As well we need to monitor and optimize employee experience so employers can intentionally connect work to a bigger sense of purpose and company values and the decisions made as an organization.
BK: What new strategies do organizations need to employ to be successful in this new way of working?
KL: We need new strategies to measure productivity and understand all the crud that gets in the way of employees doing their best work – from the 15-minute wait to get on an elevator to distractions, multi-tasking, poor sound masking, and overwork.
The biggest issue is systems don't talk to one another – APIs and open source strategies are helping somewhat with this but not enough. We need space metrics to talk to HR metrics to talk to financial metrics to provide a holistic view of the employee experience and understand what works.
We need to go beyond quantitative to qualitative metrics – so someone may answer more calls during the day, but their quality of handling those calls may be lacking. So too, a developer may be a faster coder but may have a higher error rate. We are getting to a place with greater sophistication in this area – which can be enabled by analyzing the "digital exhaust" of an organization – the 10,000-foot view of how work is done over the various systems of work – i.e. email, meetings, IT tickets in ServiceNow, or sales demos in Salesforce, for example.
BK: What do you envision moving forward as businesses begin to have staff return to the office? Post COVID-19, what will the office look like for workers?
KL: I think we'll see about 10 percent of businesses going back to the office in July and or September, and maybe 50 to 60 percent by year-end, but we need to get through the Fall flu season. Depending on how that goes, we could have revised expectations. We were the first analyst firm out with a study of employee's wishes when it comes to remote work following the onset of the COVID pandemic. At that time, 5 to 15 percent wanted to go back to working in the office and 15-25 percent wanted to work remotely full time. I think we'll likely see a hybrid work model where managers and employees will work in the office 3 to 4 days a week.
As we move forward in this new world, flexibility will be the hallmark as will management in a digital-first approach. The caveat here is that we'll need to measure people's performance by their results, not their keystrokes – so putting in place a data-driven performance management mindset that puts an emphasis on sensibility and employee privacy first and foremost.
Make Confident
Business Decisions
Sign up for a free Vue™ demo. Learn how to identify hidden insights in your workforce data to drive productivity.
Request a Demo
Sign up for a free Vue demo. Learn how to identify hidden insights in your workforce data to drive productivity.