Sapience Analytics

Analytics Will
Be

at

the Helm of a Digitally Skilled Workforce in 2021 and Beyond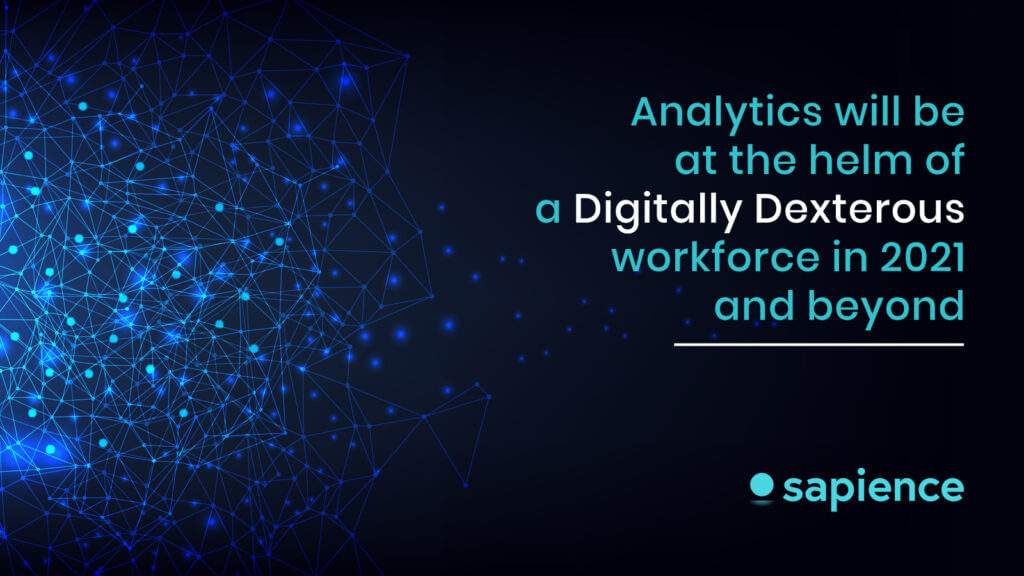 Want to learn more about this?
Subscribe below and one of our specialists will get in touch with you with more info!
Amidst all the chaos and scare that 2020 brought along, enterprises pumped more money to up their digital game. Digital investments became a primary focus, and digital dexterity was suddenly on everyone's mind. In fact, it is touted as the number one ingredient for successful digitization, and enterprises are trying their best to cultivate it.
They are now working on a war footing reimagining strategies and revisiting objectives to build the digital workplace of the future and be better prepared. As Evan Hardie, IDC Canada Research Director – Future of Work rightly explained at a recent webinar, "In the past, organizations would usually cut costs and try to ride out a crisis. This time, the dynamics are actually very different. Companies that were on their way to digitally transforming are now seeing the advantages firsthand. And those that were caught off-guard are doubling down on their investment."
The focus is now on securing remote and distributed work models for the long haul. IDC predicts spending on digital transformation between 2021 and 2023 to touch $6.8 trillion thereby putting the spotlight on the importance of placing digital dexterity at the forefront of all initiatives. Clearly, the key lies in building critical competencies to build digital agility and reap measurable business outcomes.
Interestingly, the Gartner 2019 Digital Workplace Survey declared India as the most digitally dexterous country globally, followed by the UK and the US thanks to its incredibly large Gen Z workforce and its perennial pursuit of learning new skills and adopting novel technologies. What's more, digital workers were willing to be trained on-the-job, and 45% of the survey respondents did not mind their work habits being tracked and monitored.
As Rashmi Choudhary, Principal Research Analyst at Gartner, explained, "Seven out of ten employees in India said that adoption of new digital technologies would create career opportunities and higher-paying jobs. Digital workers in India believe that an intelligent workplace contributes to an increased focus on more meaningful, business-critical work. At the same time, they expect that their organization is mitigating the risk it entails by being monitored."
Know thy people
The world is gearing up for a hybrid workplace, a phenomenon that will continue even after the pandemic. The amount of time knowledge workers spent on tasks have always been a matter of concern for employers. But in the wake of the pandemic, researchers came up with fascinating findings of the way knowledge workers managed their time. According to those published by the Harvard Business Review, meeting time went down by 12% and the time spent interacting with customers and external partners was up by 9%. Accountability increased, so did focus. They undertook additional activities purely because they felt they were critical and not because their managers wanted them to.
Findings such as the above clearly indicate the vital role analytics plays in giving enterprises the bird's eye view on workplace activities. As per CCS Insights, mental health will be a top priority for many business leaders leading to a surge in tools for assessing their mental well-being that will soon be integrated into the work environment. It is important to understand what drives them and how every little thing affects their mood and emotional well-being. AI is now increasingly used in HR not only to plan and organize recruitments and training programs but also to analyze, predict, and address the needs of employees. As Angela Ashenden, Principal Analyst in Workplace Transformation at CCS Insights, foresees, "We could potentially see the use of AI technologies to monitor employee sentiment, for example through their written communications or even through their facial expressions."
While everyone agrees on the importance of building a digitally dexterous workforce, it has been a matter of debate as to who should take the lead. While some assume it comes under the IT department's scope, others feel an enterprise-wide attitude shift is likely only when HR decides to promote digital dexterity. In reality, it is everybody's job and responsibility. However, the team leaders and managers have a more significant role to play here, considering that they interact with employees the most, even in siloed settings.
How employees spend their time is a matter of concern for enterprises. The focus has shifted on how effectively they utilize their time to ensure that there are no burnouts. While it is impossible to keep a tab on the distributed workforce's activities, it is possible to identify bottlenecks with concrete data and analytics. According to LinkedIn Global Talent Tends 2020 report, 92% of talent professionals perceive People Analytics as the key to transforming HR and recruiting in the coming years.
The way forward
From a digital adoption perspective, there are certain capabilities that organizations must focus on cultivating among their people. First and foremost, employees should be encouraged to learn and deploy digital tools. Employee training must accordingly be conducted for effective software onboarding and digitization. Digital dexterity will not be a reality unless there is open-mindedness among teams to be digital-ready and future-ready. Enterprises must aim for the kind of digital dexterity that enables them to pivot their strategies to align them with the skills of the workforce and integrate them into workforce workflows. Reskilling programs may also be needed for a mature workforce that may not be conversant with modern technologies.
Only then would we be able to measure the digital footprint and activities of workers through critical data and real-time insights about capacity, capability, and challenges. The insights should offer operational visibility around people, processes, and technology without resorting to intrusive surveillance tactics that can sabotage trust.
The whole exercise should build trust and resilience while ushering in complete transparency in these uncertain times. At Sapience, we have been helping organizations with enterprise business work activity analytics through tools and techniques to foster a culture of positive change and productivity in a hybrid workplace. We offer actionable insights to drive business growth and build digital dexterity. Having analyzed more than 1 trillion hours for customers, we know exactly how to help you digitally transform your organization.
Workforce analytics is the enabler organizations have been looking for to grow and scale new heights. What better time than 2021 to further leverage technology to redefine how work gets done and embrace the most remarkable workplace transformations of all time.
Have a digitally fit 2021.
We want to tell your more!
Subscribe below and one of our specialists will get in touch with you with more info!
Make Confident
Business Decisions
Sign up for a free Vue™ demo. Learn how to identify hidden insights in your workforce data to drive productivity.
Request a Demo
Sign up for a free demo. Learn how to identify hidden insights in your workforce data to drive productivity.